Hey guys!
I'm a Mom now
Most of you will wonder i'm a mom of a BABY?
NO no nono..
Don't think about that
It's actually i be the temporary "Mom" of my family

My mother went for Indonesia for vacation with friends
Left me and brother at home
Dad's gonna work
So, Me as the eldest sis
Have to take over my mom's role
Take care of the family
It's not easy to be a mom
I know it now...
Now i have to wake up early everyday
To do house chores
Tons and tons of house chore are waiting for me
Grrr...
Wash clothes
Sweep and mop the floor
Cook
Wash dishes
Bla bla bla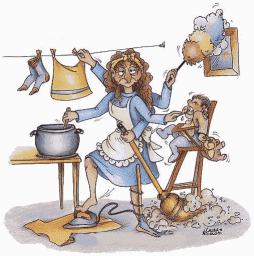 It's very tiring
Aww
My mom is a superwoman huh
Because those are her daily routine
I will help her more often in future
Just to lighten her burden
People,
you too need to help to do house chores when u're free ya
=)